Are you looking to move on from an entry-level accounting system like Xero or QuickBooks to something more powerful? Many organisations that are growing in size or complexity naturally look towards NetSuite as their replacement accounting software. It's a powerful ERP (enterprise resource planning) system that is ideally suited to certain growing businesses.

It is important, however, to weigh up all the options in the market and choose the one that's right for your needs.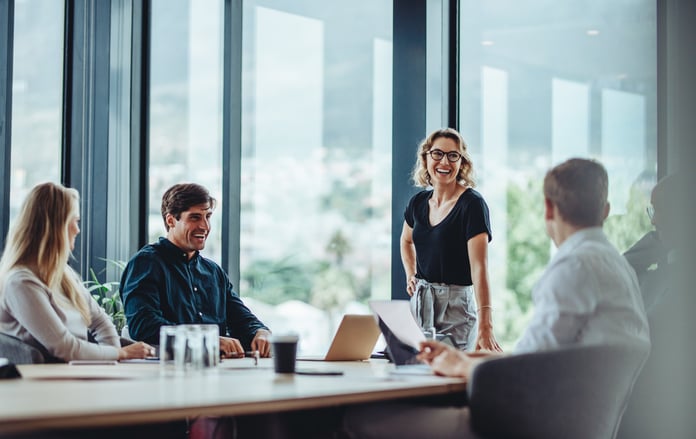 What is NetSuite and what businesses is it suitable for?
NetSuite can lay claim to being the first cloud software business, having been founded in the 1990s as NetLedger. Today, it is used by around 36,000 organisations worldwide.

It is an ERP system that offers modules to take care of a host of business processes. Those include financial management, financial planning, order management, production management, procurement, supply chain management, warehouse operations and fulfilment. Users can add other functions such as customer relations management (CRM), human resources, performance management and others.
NetSuite alternative for small business and fast-growth businesses
NetSuite has been the dominant player in its market for many years.

iplicit came along in 2019 to cater for organisations that were being held back by their existing software yet did not have the appetite to swap it for one of those big-name ERPs.

The aim was to provide a product for 'medium-sized' businesses, who had been somewhat overlooked as famous names fought it out at each end of the market.

iplicit includes all the key finance features of those big-name systems, including:
Some questions to ask about NetSuite vs iplicit
Nobody wants to waste time and money by picking the wrong software for their finance team. If you find yourself weighing iplicit against NetSuite, there are a few key questions to ask yourself:
What do I need from the system? iplicit prides itself on delivering a full range of cloud accounting features, drastically simplifying the work of a finance team. Do you need ERP features such as production management, procurement, warehouse operations and fulfilment as part of your system? If the core financials are what you need to upgrade, there's a risk that a NetSuite-style system like this will be overkill.
What's your budget? The extra features of the ERP systems come with a hefty price tag. Consider how much you can spend and how long competing systems will take to produce a return on investment.
Who will need access to the system? As well as counting the number of people who will need to use the software, it's worth reflecting on what those people do and how much the software will demand of them. Those who don't spend all day, every day, in the finance system will particularly appreciate a simple, intuitive user interface that doesn't necessitate a lot of training.
How long will implementation take? All implementations take a while, but big-name ERP platforms like NetSuite can take a year to set up, because there are so many elements to configure. Again, consider what's feasible and proportionate in your case.


iplicit advantages against NetSuite
iplicit was designed to suit any organisation that was ready to move on from entry-level cloud accounting software or old-fashioned "on-premise" platforms.
It was created for expanding or medium-sized organisations but was designed to grow with the business.
Some key advantages are:
It's agile, allowing users to add extra users and more legal entities as they grow.
It's fast to set up, typically requiring around 16-18 business days for implementation, completed within a calendar quarter. Comparable ERP systems can take 75-120 business days and take a year or more to settle down.
It comes without "bloat". You get the tools you require to run a finance department efficiently without a host of modules you will never need.

The platform is flexible and is constantly evolving with a clear roadmap of new features to be rolled out, so there should be no need to change systems again.
Compare the strengths of each option with your needs and you're likely to find NetSuite is a great option for an already large and complex organisation which needs its software to handle a variety of tasks in addition to finance. But for finance functions in most growing or medium-sized organisations, iplicit is likely to be an excellent choice.

What's more, the lower cost of iplicit could mean that you can upgrade now rather than wait until your organisation is big enough to afford NetSuite – and it could be the last time you change systems.
Learn more
To find out more about iplicit, get in touch to book a demonstration.
WEBINAR: Better management accounting: SPVs & multiple entities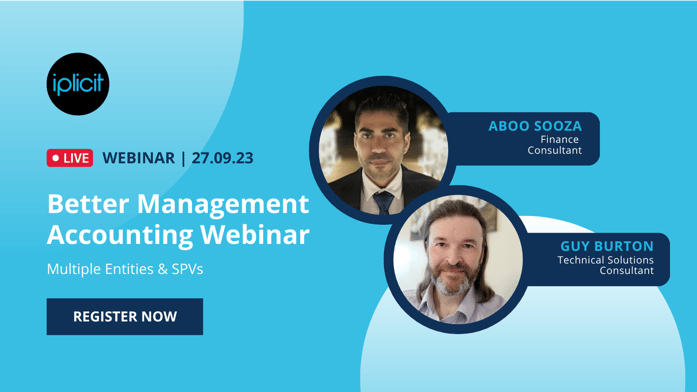 Discover how you can consolidate your entities and SPVs at speed and with confidence, gain better visibility and manage risk with faster consolidation.

With our unlimited dimensions and flexible GL, you can customise and flex the reporting as you need for different stakeholders. And new entities, funds and SPVs can be set up in moments.
This webinar will cover:
Multicurrency consolidation in real time.
Intercompany transactions and eliminations.
Multi-jurisdiction tax handling.
Multi-dimensional reporting in real time.
Visualise group data instantly with drill down detail.

When: Wednesday, 27th September, from 11-11.30am BST.