FREE WHITEPAPER SERIES
Getting the best performance out of financial management
An interview series with arts organisations across the UK reveals how they are able to combine improving their financial position with developing the relationship with the audience.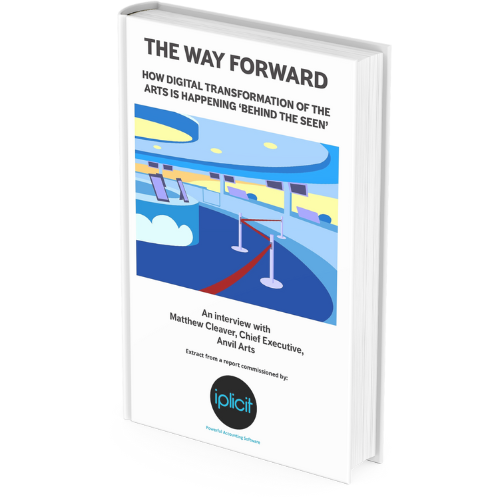 Can IT Help The Arts Add Value?
Instead of looking at the digital revolution in the arts through the prism of on-line performances and production values, let's look at the impact of IT in being able to transform the finance function and administrative tasks.

That's in terms of the use of data for strategic through to granular decision-making rather than score-keeping, at how the customer experience can be improved.

In a book commissioned by iplicit to be prepared and published by DECISION magazine later this year, the chief executives and chief financial officers of arts organisations across the UK will be highlighting the issues, sharing their thoughts on the way forward.

Leading up to publication, the latest thought-provoking interview to be included in the report will be available here for you to download.
INTERVIEW 01
Matthew Cleaver
Chief Executive, Anvil Arts

"Technology can provide us with live and granular information. We can now look at sales patterns for each event in real time with daily or even hourly reports, so we can be immediately pro-active rather than just having historical data after the event. It means we know if and where we need to adjust our marketing if necessary in order to meet our financial targets."

See the award-winning iplicit accounting software in action