If you're an accountancy practice looking to serve mid-market clients with modern day cloud technology, the natural first thought might be towards the large incumbent vendors, such as Microsoft, Oracle or Sage.
However, rather than dealing with you directly, it is more typical that these multi-billion dollar organisations will connect you with one of their commercial partners, who often have a different set of motivations, particularly when it comes to implementation, training and support.
Accountancy practices will want to consider a series of key factors before making their decision.
Big isn't always better
There are valid reasons for choosing one of software's big names. They've achieved their dominance for a reason and have a suite of products to meet the needs of a wide range of businesses.
But it's worth considering whether another vendor is a better fit for you.
Typically, the major players will look at connecting you with one of their chosen commercial partners. While those partners will all have their strengths and weaknesses, accountancy firms might be concerned that the partner is incentivised to secure service revenue which you would rather keep in your practice.
Consider all the costs
You will want your chosen accounting software to integrate with other systems – those handling customer relations management (CRM), stock, payroll or bookings for example.
Typically, the partner you've been allocated may set up that sort of thing for you through plug-ins and add-ons. It is worth considering what those features will add to the budget.
When looking at the costs of different providers, you should also check whether you're comparing like with like. Do some of those add-ons provide features that come included with other finance systems? Examples might include revenue recognition or workflow authorisation, which are extras with some vendors but a core part of other packages.
To avoid surprises, it is advisable to examine a detailed pricing proposal in good time, before you are too far into the decision-making process.
Dependency on the partner
If a vendor's partner is looking at putting together a suite of apps to cater for your requirements, it is wise to consider how your relationship with that partner will work.
If that configuration of apps goes wrong, or something needs updating, how confident are you that the partner will handle the situation to your satisfaction? It's known as "software as a service" (SaaS) and you need to be happy with the standards of that service.
"Version lock"
All software providers roll out frequent updates to their products to improve security and performance.
It is possible this could create difficulties for customers who have had apps and plug-ins added by a partner to accommodate their requirements.
This can create "version lock" – where the customer misses out on the latest updates and features until other apps and processes have been reconfigured accordingly. It is worth asking about these issues and comparing the approaches of different providers.
Scalability requirements
With any decision about software, it is important to consider your future requirements – and that's even more the case if you are seeking to build an outsourcing service by courting mid-market organisations.
It has been known for outsourcing providers to find themselves using several versions of the same software across the team, because of the "version lock" issue already discussed. That could be a brake on growth, so ask questions about how efficiently your software set-up will scale with the business.
What will the support be like?
The support you receive from a software vendor or its business partner could be hugely important over a period of years.
It would be advisable to gauge how promptly you can expect to have requests for help actioned. And if your primary relationship will be with a big vendor's reselling partner, it will be worth weighing that against the support you might receive in a direct relationship with another software business.
What if the relationship ends?
You don't buy accounting software without a lot of thought, so hopefully the arrangement will last a long time.
But as with any relationship, it is worth giving some thought to what happens if it ends sooner than you might have wished.
Walking away from a relationship with a big corporation's partner has been complicated for some clients. You should certainly check whether you would be locked into "right to use" licences in order to continue seeing historical financial data. It has been known for these licences to cost almost as much as continuing with the product.
Price commitments
Consider how prices may change in future. How much scope does the vendor or partner have to put them up? It is an issue to ponder in tandem with the question of how complicated it would be to part company.
For all these reasons, it's important to do all possible due diligence research into the relationship you're getting into.
Comparing accounting software providers
No two businesses are alike, so no single provider of accounting software is the right fit for everyone.
For many, one of the industry's big names will be a good solution. For others, drawbacks such as cost and the disruption of a lengthy implementation process will be a deterrent.
Your first requirement will be that your chosen platform is technically sound, reliable and easy enough to use. Once those standards are satisfied, there are a host of other issues to consider.
The big players are established brands which have global dominance and vast numbers of customers, though are often inflexible as a result.
Ranged against them are disruptors such as iplicit, which has been designed for rapid implementation and a large degree of self-service, as well as smooth integration with systems that handle tasks such as CRM and stock control. They also offer a direct relationship with the developers of the software, so any issues are promptly dealt with and customer feedback informs constant improvement.
Weighing up all these questions will help you decide which provider – and what kind of relationship – is right for your practice.
WEBINAR: Accountancy Practice webinar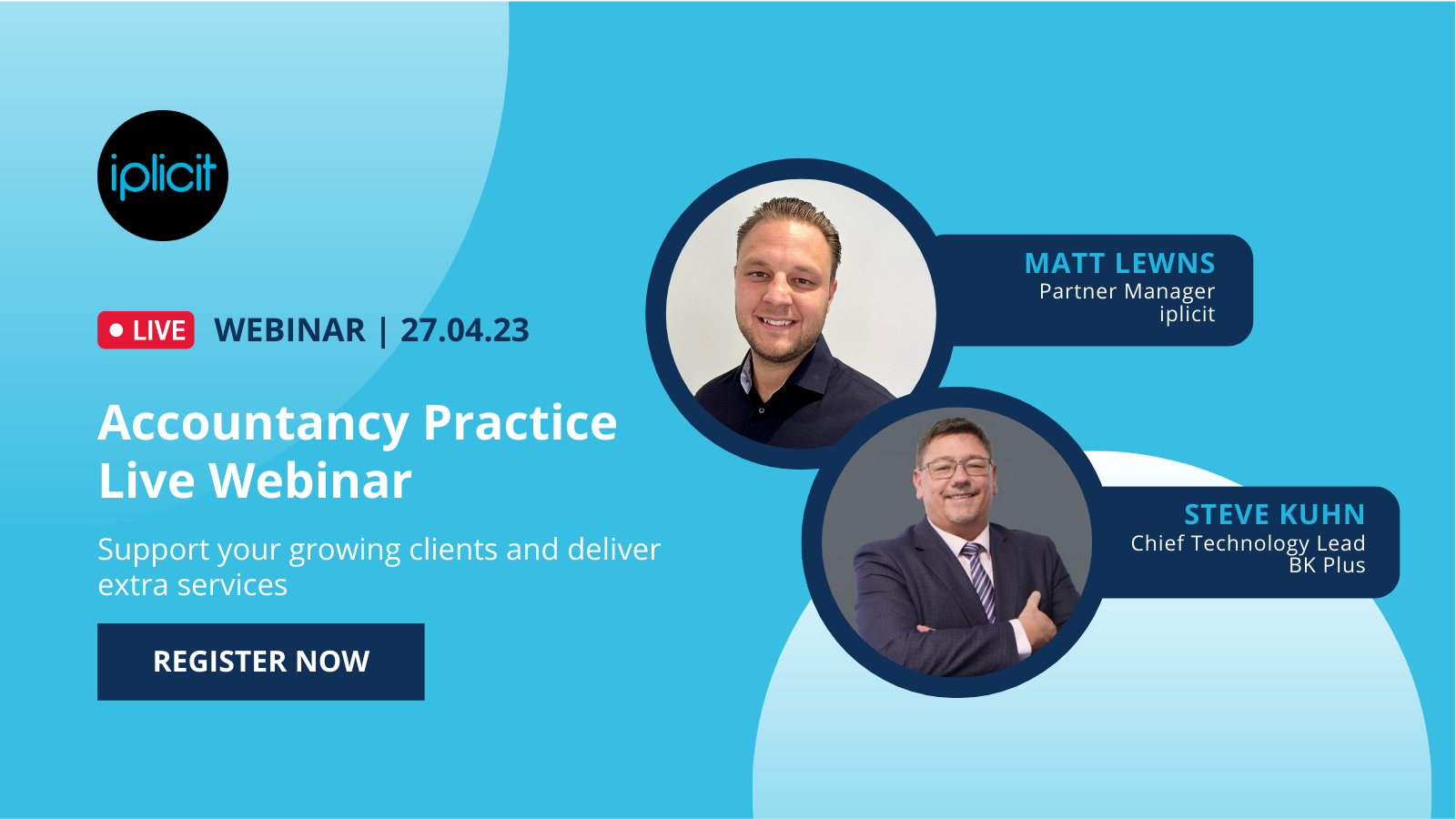 Find out more about our accounting software for accountants or join us for our Accountancy Practice Webinar on 27th April. Our guest speaker, Steven Kuhn from BK Plus shares his experience of working with iplicit and how it helps BK Plus offer more services and strengthen relationships with clients.