It's a temptation for an organisation – just as it is for an individual with a shiny new smartphone. Full of eagerness to be productive, you can invest a lot of time collecting the perfect combination of apps for your needs.
But in working life, it is worth considering whether the hunt for the perfect "app stack" can lead to unnecessary complexity and whether there are other options you should be evaluating.
Whether you're responsible for your own organisation's finances, or are an accountant handling someone else's, it's worth considering whether the right accounting software could do the work of many applications.
What is an App Stack and what does an app stack do?
An application stack (app stack) is a collection of applications brought together to handle the work of an organisation. The purpose of an app stack is to provide a cohesive set of tools that work together to deliver the desired functionality.
It may be that an organisation has different applications for:
Producing consolidated accounts

Extracting data into Excel spreadsheets – and vice versa

Handling inter-company transactions

Dealing with authorisation workflows

Processing card payments, sometimes in different territories

Project and job costing analysis

Stock and inventory management

Global tax or VAT group compliance
Together, these layers work together to create a complete application stack that can deliver a wide range of functionality to end-users. The specific components of an app stack can vary depending on the needs of the application, and the underlying technology used to build it.
The case for app stacks is that they can save money in monthly subscriptions, while also saving time. That can be true – but the process comes with risks, and it's worth considering whether a simpler solution might be under your nose in the form of a better accounting platform.
The risks of app stacks
Hopefully your app stack will be put together by people who live and breathe this sort of thing. But however well-assembled that stack is, there are some risks to consider at an early stage:
Are the apps being used as their creators intended?

If the developer of an app releases an update, they may not be thinking about how their software functions when it's plugged into someone else's app. So a simple enhancement could break your carefully designed system overnight. Do you have the right support in place in case of a problem months or years down the line?

Is your hierarchy of apps scalable?

You probably needed this app stack in order to grow your business – but how much more growth can it handle? If you add new entities to your organisation, will all your systems integrate? And who will manage that process?

Who troubleshoots your application stack?

? If something goes wrong, whose responsibility is it to investigate the situation and put it right? And how much would your business be disrupted if that person had to wait for help tickets to be dealt with, potentially by several different software providers?

Is your app stack future proof?

Will that market-leading app still be market leaders in a few years' time?

What if an app changes hands?

Consider the example of DataDear, which allowed users to download information from multiple instances of Xero and QuickBooks into Excel spreadsheets and then upload it again. In 2021, it was bought by QuickBooks owner Intuit, and the new owners gave notice that it would no longer work with Xero. In the tech industry, where mergers and acquisitions happen often, that sort of event is a risk you need to factor in.

Is it cost effective?

It can look cost-effective to combine an entry-level accounting package with a host of other relatively low-cost applications. But the total cost mounts up – especially if you have to replicate that app stack across several connected entities.

Again, it's worth comparing the cost-effectiveness of this arrangement with other solutions.
The complications for outsourced providers
The risks of relying on a complicated network of applications can increase if your practice is handling finance functions for other organisations on an outsourced basis.
Who's being paid?

You need to consider who in the accountancy practice is responsible for looking after that integrated web of apps. If something stops working, who on your team is being paid to investigate and find a solution?

How time-consuming is it to fix problems?

If a member of your team has to troubleshoot a problem, will they be left awaiting responses from helpdesks in other organisations? How long might this take, particularly if it's not immediately clear how the integration problem has cropped up? And again, is this work being paid for?

Are you recommending a solution for the right reasons?

They say that when you have a hammer, everything looks like a nail. Is it possible that you might be relying on a particular collection of apps because those are the tools your team are familiar with and are used to recommending? It's always worth taking a step back and considering whether those familiar solutions are the ones that best meet the client's needs.


Why a mid-market cloud accounting platform can be the best solution
These complex collections of apps are often bolted on to an accounting platform that was created to serve the needs of start-up businesses. But much of the work done by these app stacks could be handled in a single system if the client changed finance platforms, so that's an option that should be evaluated.
The extra apps tend to be added in order to carry out tasks that the accounting software cannot: extracting data into Excel spreadsheets, producing consolidated accounts, reconciling inter-company transactions and reporting on how individual entities or projects are performing.
But a more powerful true-cloud accounting system can handle all those things and many other functions performed by other apps. It can also accommodate the organisation's growth. Compared with acquiring multiple copies of entry-level accounts software – and then replicating that app stack across a group of entities – an upgrade for your accounting package might also potentially be the most cost-effective solution.
It's fair to say that every accounting practice will, either now or in the future, have a client that needs to think about true-cloud software as the answer to its growing needs.
Get in touch
If you would like to find out more about what an ERP system can do for you, or need help finding the best cloud accounting software for your business, contact us to learn more about our cutting edge solutions or book a demo with iplicit.
ON-DEMAND WEBINAR: Accountancy Practice webinar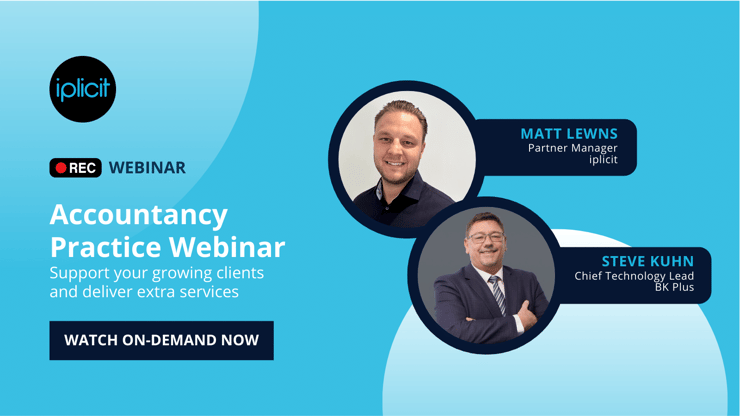 If you're an Accountant in practice looking for a true-cloud, scalable alternative for your mid-markets clients who have outgrown the likes of Sage, Xero, QuickBooks or other on-premise finance systems then this is the webinar for you!
Watch now to discover how iplicit will help you support your growing clients and deliver extra services.

It covers:
An introduction to iplicit and our positioning
Why practices are looking to the mid-market to complement their offering
How iplicit can help practices grow their services business and retain clients who are outgrowing other systems
Partner programme benefits
15-20 min demo of iplicit