A hugely important part of your company's financial calendar, month-end accounting helps easily display your financial information – whilst keeping your records ready in case your business is audited – helping to prevent future accounting mistakes and helping you plan for the future.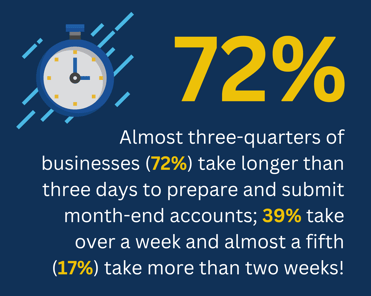 It is no exaggeration to say that creating and submitting month-end reporting in a timely manner is mission-critical for businesses.

Yet, our recent research exploring how 1,000 UK-based finance decision-makers working in organisations that employ between 50 and 500 employees plan, manage and deliver the finance function, reveals that more than a third (39%) take over a week to prepare and submit month-end reports.
Worryingly, almost one in five (17%) reported that it takes more than a fortnight – with unreliable data being the most significant cause of delay.
Delayed month-end reporting places additional and unnecessary pressure on finance teams, as well as creating significant business risk by not providing crucial financial information to business leaders when they need it most.
Our research also highlights the major stumbling blocks in delivering month-end accounts:
1. 18% reporting having unreliable data that needs checking

2. 17% said they have to work across multiple incompatible systems/ data points and have a lack of internal resources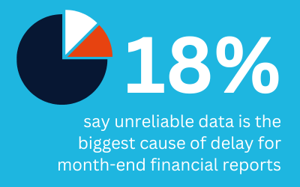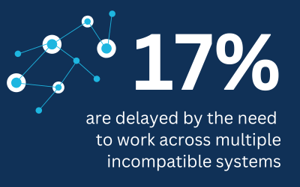 A lack of resources is a universally felt problem for the accounting profession, with a recent survey by the Association of Chartered Certified Accountants reporting that two-thirds of accounting firms find it challenging to recruit the right talent.
Add to this that UK finance decision-makers say they are restricted by missing data (12%) and having a reliance on many slow manual processes (11%) – it is clear that action is needed.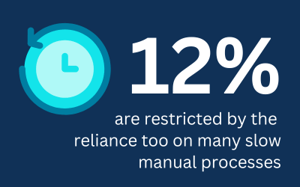 What can UK finance decision-makers do?
One affirmative action UK finance decision-makers can take is to look at digital finance transformation, as spending longer than needed on month-end reporting significantly eats into precious time and resources – both of which have significant bottom-line ramifications for organisations regardless of their size, or sector.
Over the past three years, organisations have faced an extraordinary array of new challenges. From supply chain disruption to the great resignation, as well as inflation and rising interest rates – the finance teams' forecasting and traditional measures of business performance have been turned on their head.
On top of this, business risk has escalated and with the ongoing lack of confidence from the CBI, companies urgently require fast access to deep, accurate financial information to support vital decisions.
A lack of rapid insight into business performance is not only hugely frustrating, but it creates a significant risk which is not something any business should tolerate.
Is changing accounting software a viable solution?
We question whether UK finance decision-makers are being held back by their accounting and finance systems and processes.

Many finance teams still use time-consuming manual processes for adjustments and the allocation of expenses across different business units – core activities that could and should be automated. This will improve accuracy and reduce the burden on the finance team.
Changing accounting software may be the solution as part of a well-considered digital finance transformation journey, especially as missing and unreliable data will clearly create frustration amongst finance decision-makers.

Without careful consideration of how to address these challenges, finance departments could be facing the perfect storm of dealing with unreliable data, lack of resources and inefficient systems to generate their month-end reports.
Without careful consideration of how to address these challenges, finance departments could be facing the perfect storm of dealing with unreliable data, lack of resources and inefficient systems to generate their month-end reports.

In the ideal world, financial reporting should always be accurate and timely.
In reality, unintentional errors and even fraud can lead to inaccuracies in financial statements, which can negatively impact your organisation. The risks to the company are significant, ranging from poor operating decisions to reputational impairment and even bankruptcy and legal action.

Understanding the typical causes of inaccuracies and deploying a net of internal controls, including powerful financial software can help reduce the likelihood of errors.

Ultimately UK finance decision-makers need accurate, accessible, real-time insights to inform key business decisions.
The full results of the independent market research are available to view in our report, titled: 'A study 1,000 CFOs - the finance function and the limitations of current accounting systems'.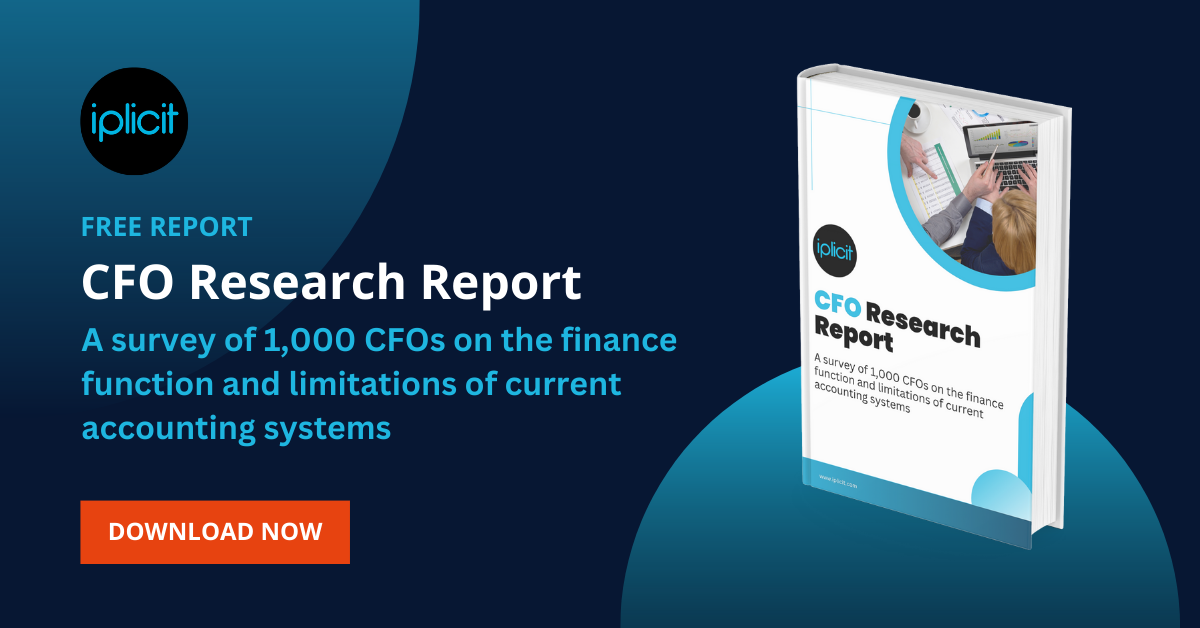 To find out more, and to book a call for your organisation, select the "Book a Demo" button on the homepage.