In today's fast-paced business environment, staying compliant with accounting standards is crucial for every organisation. In the UK and Ireland, the Financial Reporting Council develops and maintains accounting standards - so it's important that your software will support you to stay compliant.

With constant updates and changes in regulations, it can be challenging to keep up and avoid costly fines or cyber breaches. However, cloud accounting software has emerged as a powerful tool that can streamline your compliance efforts. In this blog, we will explore how cloud accounting software can help you stay compliant with accounting standards while ensuring accuracy, efficiency, and security.
Centralised Data and Real-Time Updates
One of the key benefits of cloud accounting software is the ability to centralise and access your financial data from anywhere, at any time. This centralised system eliminates the need for manual data entry and multiple spreadsheets, reducing the risk of errors and ensuring data consistency. By having real-time access to your financial information, you can monitor your compliance status and make informed decisions promptly.
Automated Reporting and Documentation
Compliance with accounting standards often requires extensive reporting and documentation. Cloud accounting software simplifies this process by automating various reporting tasks. With just a few clicks, you can generate accurate financial statements, balance sheets, income statements, and cash flow statements. These reports can be customised to meet specific compliance requirements and can be easily shared with auditors or regulatory authorities.
Integration with Regulatory Updates
Keeping up with changes in accounting standards is a daunting task. However, leading cloud accounting software solutions are designed to integrate seamlessly with regulatory updates. These software systems often receive regular updates that incorporate the latest accounting standards and regulations. This ensures compliance with the accounting or auditing standards for your sector - such as charity accounting or multi-company. By using cloud software, automatic updates can give you peace of mind knowing that you are adhering to the most recent accounting standards without the hassle and stress of manual updates.
Enhanced Security and Data Protection
Data security is a critical concern for any organisation, especially when it comes to financial information. Accountancy software in the Cloud provides robust security measures to protect your sensitive data. Cloud-based systems offer advanced encryption, secure data centres, and regular backups to ensure that your financial information remains safe from unauthorised access, natural disasters, or hardware failures. Furthermore, cloud accounting software enables you to assign user permissions, restricting access to sensitive financial data only to the people that you allow. This helps firms to stay compliant with the Financial Conduct Authority (Rule 3.2.6R), which requires businesses to adopt and maintain effective systems to minimise the risk of financial crime.
Collaboration and Audit Trail
Compliance often involves multiple stakeholders, including accountants, auditors, and management teams. Cloud accounting software facilitates collaboration by allowing real-time access and collaboration among team members. This ensures that everyone involved in compliance-related tasks can work together efficiently and effectively. Additionally, cloud accounting software like iplicit maintains an audit trail, recording all financial transactions and changes made to the system. This trail can serve as evidence during audits and helps to demonstrate compliance with accounting standards.
Staying Compliant with iplicit
iplicit's software operates on a subscription-based model, eliminating the need for expensive upfront investments in hardware or software licences. This cost-effective approach allows organisations to allocate their resources more efficiently while maintaining compliance.

Cloud accounting software has revolutionised the way organisations manage their financial processes, making compliance far easier, more efficient, and more secure. By leveraging centralised data, automation, integration with regulatory updates, enhanced security, collaboration features, and cost-effectiveness, cloud accounting software empowers organisations to meet accounting standards while focusing on their core business operations.

Compliance is not just a legal obligation; it also builds trust and credibility with stakeholders, ultimately contributing to your long-term business success. If you're looking to invest in a reliable cloud accounting software solution like iplicit or find out more about the platform, please contact us today.
WEBINAR: Better management accounting: SPVs & multiple entities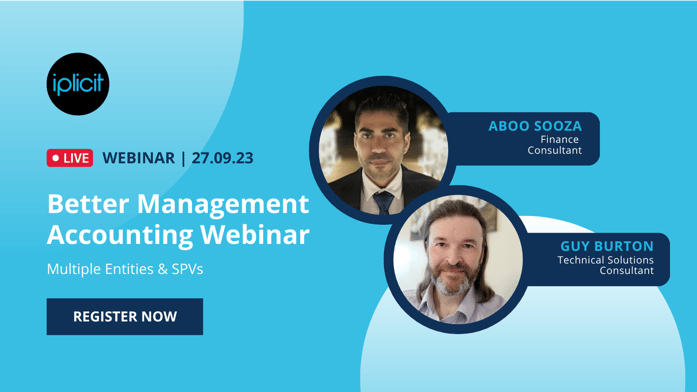 Discover how you can consolidate your entities and SPVs at speed and with confidence, gain better visibility and manage risk with faster consolidation.

With our unlimited dimensions and flexible GL, you can customise and flex the reporting as you need for different stakeholders. And new entities, funds and SPVs can be set up in moments.
This webinar will cover:
Multicurrency consolidation in real time.
Intercompany transactions and eliminations.
Multi-jurisdiction tax handling.
Multi-dimensional reporting in real time.
Visualise group data instantly with drill down detail.

When: Wednesday, 27th September, from 11-11.30am BST.