Why fix something that isn't broken? If your charity has been using traditional accounting software for many years with no big problems, it's understandable that you might be reluctant to make the move to the cloud. Transitioning sensitive financial information to a cloud accounting platform is often seen as a risk, while the initial costs associated with migration can be off-putting to charities with limited budgets.

But perhaps the advantages of a cloud-based system could outweigh these concerns. In this blog we'll explore both sides of the coin, investigating the pros and cons of cloud accounting vs traditional accounting for charities.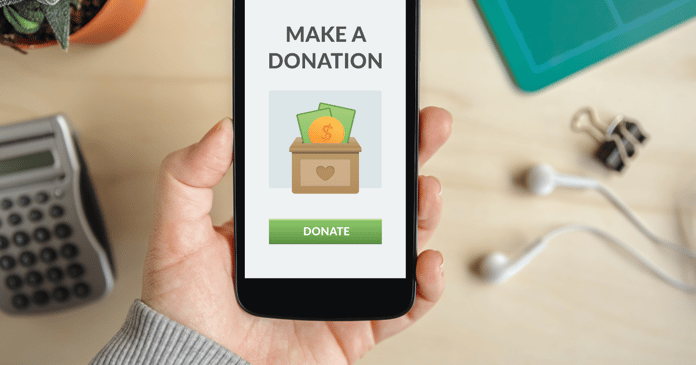 What is cloud accounting and how does it compare with traditional software?
Cloud accounting uses online software that is hosted on remote servers and is accessed through the internet. It allows users to manage their financial data, perform accounting tasks and collaborate with team members from any location with an internet connection. Cloud accounting software provides real-time updates and strong data security, which is taken care of automatically with no action required by the user.

By contrast, traditional accounting software is typically installed on specific devices or servers, limiting accessibility to specific locations or devices. Users are responsible for software maintenance, updates, and ensuring security patches are applied.
Accounting challenges faced by charities: how do the tools measure up?
Charity accounting software needs to handle a number of idiosyncratic challenges that don't affect organisations in the private sector. Let's take a look at cloud accounting vs traditional accounting systems, and how they deal with these issues.
Grants and restricted funding
Traditional accounting software: Dealing with restricted funds may require manual data entry using spreadsheets and sharing of files, potentially leading to delays and inaccuracies in tracking restricted funds.
Cloud accounting software: Allows for real-time tracking and reporting of restricted funds, enabling immediate updates when donations are received and expenses are incurred.
Accountability, transparency, compliance and reporting
Traditional accounting software: May require you to generate and share static financial reports, which can be time-consuming, not as up-to-date and less transparent.

Cloud accounting software:

Provides remote access to financial data, enhancing transparency by allowing stakeholders to view real-time financial reports and drill down to transaction histories. Auditors and regulators can also access data directly, increasing accountability
Data security
Traditional accounting software: The responsibility for data security, backups and disaster recovery sits with your organisation. You need to independently monitor and apply software updates, maintain compliance and invest in security expertise.
Cloud accounting software: Employs robust security measures, including data encryption and physical safeguards, while also offering automatic backups and disaster recovery. User access controls and authentication options enhance security.
Software costs
Traditional accounting software: Often involves higher initial costs, including software licences, hardware purchases, and potential IT infrastructure setup. While traditional software might not have ongoing subscription fees, there can be unpredictable costs for updates, maintenance and support.
Cloud-based accounting software: The subscription-based cost structure of cloud accounting software can make it more affordable and accessible for charities, especially those looking to manage their finances effectively without incurring significant upfront costs. Upgrades and security measures are included in your subscription.
Why choose iplicit charity accounting software?
If you're considering upgrading to a cloud-based accounting system, it's important to choose a solution that's designed with charities in mind. iplicit accounting software for charities and nonprofit organisations is used by charities worldwide, to streamline their accounting processes and ensure a secure, accessible and compliant accounting environment.

If you'd like to learn more about moving from traditional accounting to a cloud-based system, download our free toolkit:

● How to successfully change your finance system: A toolkit for nonprofits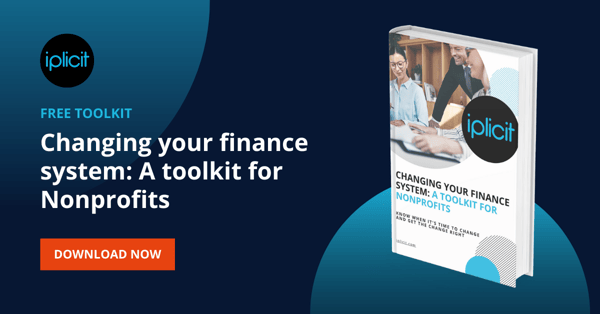 WEBINAR: Moving to a Modern Cloud Finance System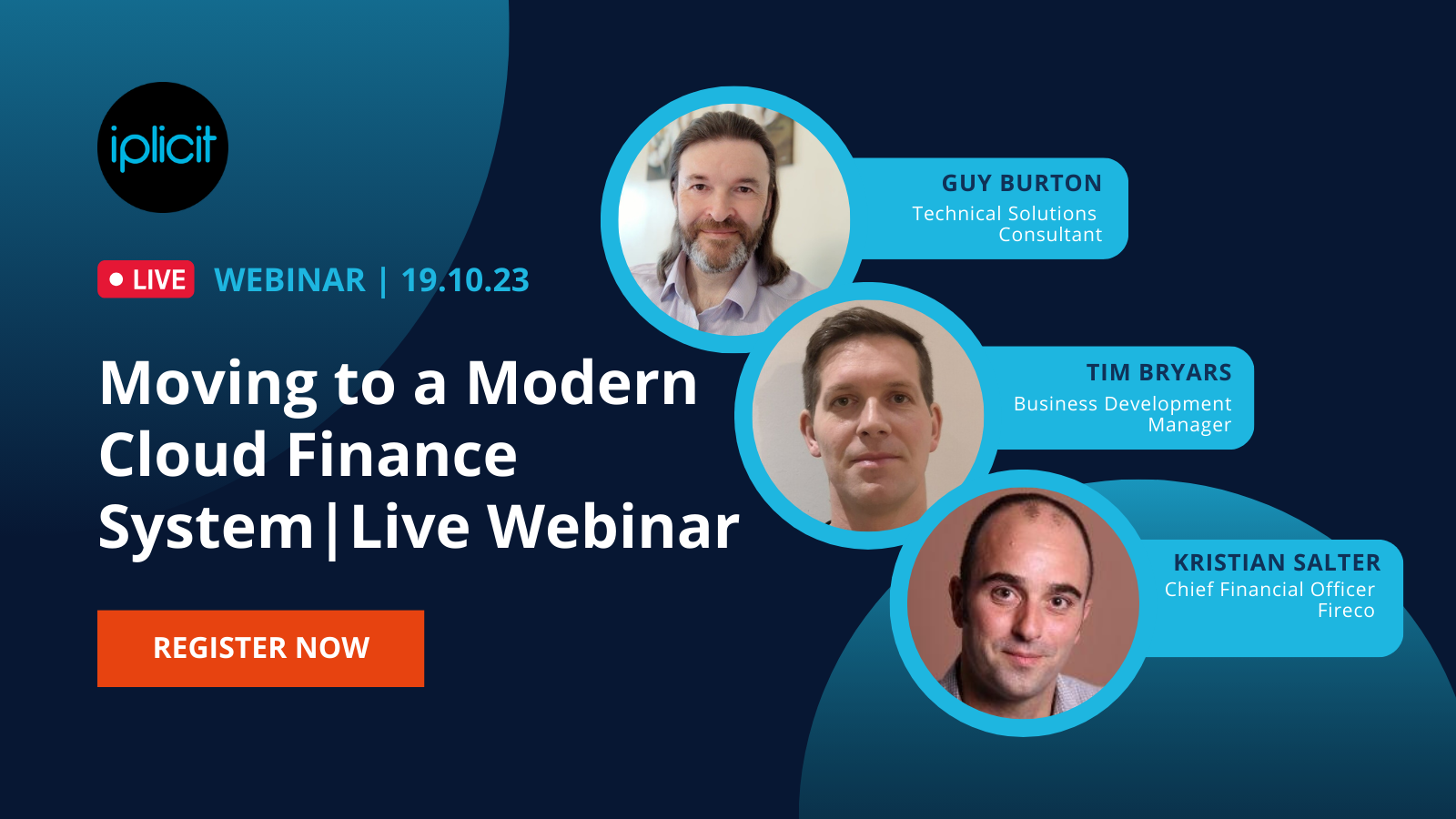 Take a peek at how modern cloud accounting can transform your finance operations. Many vendors are discontinuing on-premise products so now is a good time to see what cloud accounting has to offer.
This webinar will cover:
Advanced workflows and approvals
Flexible multi-dimensional reporting
Automated billing and revenue recognition
Intercompany management
Multicurrency and multi-entity consolidation
How Fireco transformed their finance operations by switching to iplicit.


When: Thursday 19th October, from 11-11.40am BST.