We're heading to Excel London on 11-12 May to take part in Accountex, the UK's largest accounting and finance event. Not only are we looking forward to meeting visitors in person, but we'll also be launching something new and exciting…. Keep reading to find out more!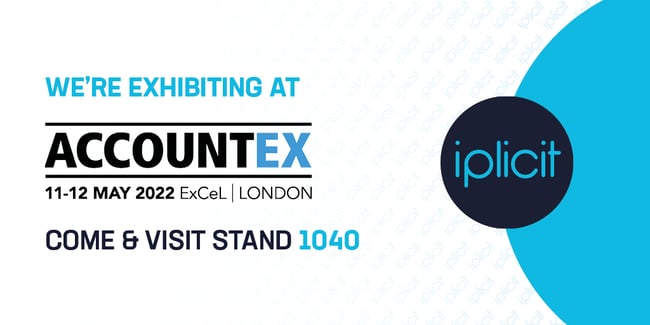 The two-day conference and expo will celebrate all-things accounting and finance and give visitors the opportunity to learn from leading industry experts, share best practice, and see the latest in cutting edge tech that's driving the industry forward.

We'll be joined by commercial director, Paul Sparkes, customer services director, Sam Curtis, cloud solutions consultant, David Forster, as well as our new technical solutions consultant, Guy Burton, and senior business development manager, Luke Mckenna. Together, the team has accumulated over 100 years combined industry experience, having worked at organisations such as Sage, WorldPay, AccountsIQ, IRIS and Exchequer. All will be on-hand to answer your questions, provide a demonstration of the iplicit system, and 'drill down' into its relevance to your organisation. 

iplicit is a true Cloud Accounting solution ideal for the frustrated on-premise software user, and organisations that have outgrown entry-level software. So, if you're a Finance Professional looking to change your accounting software, or an Accountant looking to support growing clients, here are 7 reasons to visit iplicit at Accountex London, on stand 1040:
7 reasons to visit iplicit at Accountex London:
1. We fill a gap in the market
Suppliers of ERP systems for larger businesses such as Netsuite, Microsoft Dynamics and Sage Intacct have often tried to make their products appeal to mid-sized organisations that have outgrown entry-level software. But often, their solutions are far too expensive and complex for the needs of the mid-market.

At the other end of the market are the entry-level products which are low-cost, quick to implement, and generally (but not always) easy to use, such as Sage 50, Xero and Quickbooks. Sadly, most of these lack much of the functionality that growing organisations need.

This mismatch of requirement and capability leaves a meaningful gap. Within which, most mid-sized businesses are poorly served, with a limited choice products that truly meet their needs. At iplicit, we're dedicated to meeting the demands of the mid-market and filling that gap!

Designed for the needs of growing businesses, iplicit functionality supports multi-legal entities, partial VAT, multi-currency, and powerful BI to name just a few, and at a price-point that appeals.
2. We offer rapid implementation
With iplicit, there is no building from scratch. A fully functioning test environment can be ready in hours and with the assistance and training from our dedicated team, new customers can be up and running in as little as 15 days! Compared to the weeks or months that some of our competitors offer.

Many of our customers are often shocked by how painless the transition is, after worrying and procrastinating about making the change for months, if not years.

"The team at iplicit are honest, passionate, and great to work with. Once the quick implementation was completed, we got our stunning, easy to use program that we'd spent a few years trying to find."
Kristian Salter, Chief Financial Officer at Fireco

"The thought of going through the implementation process filled me with dread but it was actually a dream! I had lots of support from iplicit, who really guided me through the process. I haven't looked back since we started using iplicit, it has really changed our working life - making previously painful processes so much easier."
Laura Orchard, Financial Controller, BAILEYGOMM
3. See our multi-award-winning software in action
In 2020 iplicit's cloud-native accounting solution was named the UK's Best Mid-Market & Enterprise Accounting Software at the annual Accounting Excellence Awards. In 2021 we retained the title for a second year running, when over 7,500 AccountingWEB members voted it as their preferred system over the likes of Oracle, NetSuite, Greentree, Sage, AccountsIQ and Xledger


4. We don't run from data migration
When migrating to new finance software, most organisations will find that their new vendor can't, or won't, transfer across their historical data - a bit of a problem when HMRC requires organisations to keep VAT records for six years!

The workaround to date has been that organisations would purchase an expensive 'right to use licence' from their existing vendor. Giving them the access to the historical data they require by effectively enabling them to tap into two systems. But not only is that not always convenient, often these licences come at an overinflated cost too. Making the expense of moving to new software unpalatable for some, leaving them hostage to their old, encumbered provider. At iplicit, our archived data migration solution gives new customers a full archive of transactional data from their old accounting system, at a fraction of the cost of a right to use licence.
5. We'll be launching something new and exciting!
As we mentioned at the start, we'll be using this event to exclusively reveal our latest product release – the iplicit Automation Centre!

Time is a precious commodity and the team at iplicit understand that saving time is important for accountants and finance professionals alike. To address this productivity challenge, we have created an all-new Automation Centre, within our multi-award-winning cloud accounting software. This new functionality will enable users to automate the most common time-consuming tasks – saving them literally hundreds of hours every month!

"The timesaving we experience with iplicit is enormous! We are currently preparing our year-end process, and already we are saving six weeks consolidating the various project balance sheets from various QuickBooks versions. Just take Donor Reports as an example – it's essential that we have transparency and can report back to Donors on how and where their funds have been spent. With our old system, each Donor report would take three weeks to produce, with iplicit, if all data has been entered correctly, a report can be done in less than two days!"
Sandra Tcheumeni Boschet, Head of Finance at Health Poverty Action
6. In the gap above entry-level, we're the only cloud-native, mid-market accounting and finance solution to offer its own fully integrated stock and inventory management
Our fully integrated stock control and inventory management functionality helps accounting and finance leaders to reduce manually intensive processes, decrease human error, streamline reporting, and improve inventory visibility.

Speaking about our stock control functionality, product director Brian Weaving, said: "Accounting and finance leaders are coming to us with an immediate need to eliminate the annoyances they're experiencing with clunky, unfit-for-purpose software that can't keep up with the pace of their growing businesses.

"A big part of that is the lack of seamless integration between accounting and stock systems – and this is leaving finance departments operating blindly because they're unable to collate and report on critical figures with any kind of accuracy or speed."
7. Meet our experts
Our team have over 100 years of combined experience in our field. Meet some of that team face-to-face and put your questions to our industry experts, Paul, Sam, David, Luke and Guy for the latest practical tips to take away and implement in your organisation.
You can find us on exhibition stand 1040, ready to answer your questions and catch-up. If you still haven't registered, book your place here.
Want to discover more about iplicit's true cloud accounting solution? Our dedicated team can explain all the benefits and walk you through the functionality. Book a demo today by calling 020 7729 3260, emailing: info@iplicit.com or complete our contact form for a call back.