A round-up of the best new functionality released by iplicit last year - We're continually enhancing iplicit by investing time and money into creating new functionality.
Some of these functionality updates are driven by customer feedback and specific requests, others by wider market needs, and some by our own understanding of how our software can make life easier for Finance professionals
Notably, new automation features were added throughout the year, giving us a large library of automations that have the potential to save Finance functions over 46% of their working time. The time-saving benefit is something that customers mention frequently in our case studies when asked about their experience of using iplicit.

Our updates are rolled out automatically in the background with no disruption to our users. Most new functionality is free as part of customers' subscriptions and is available to all users.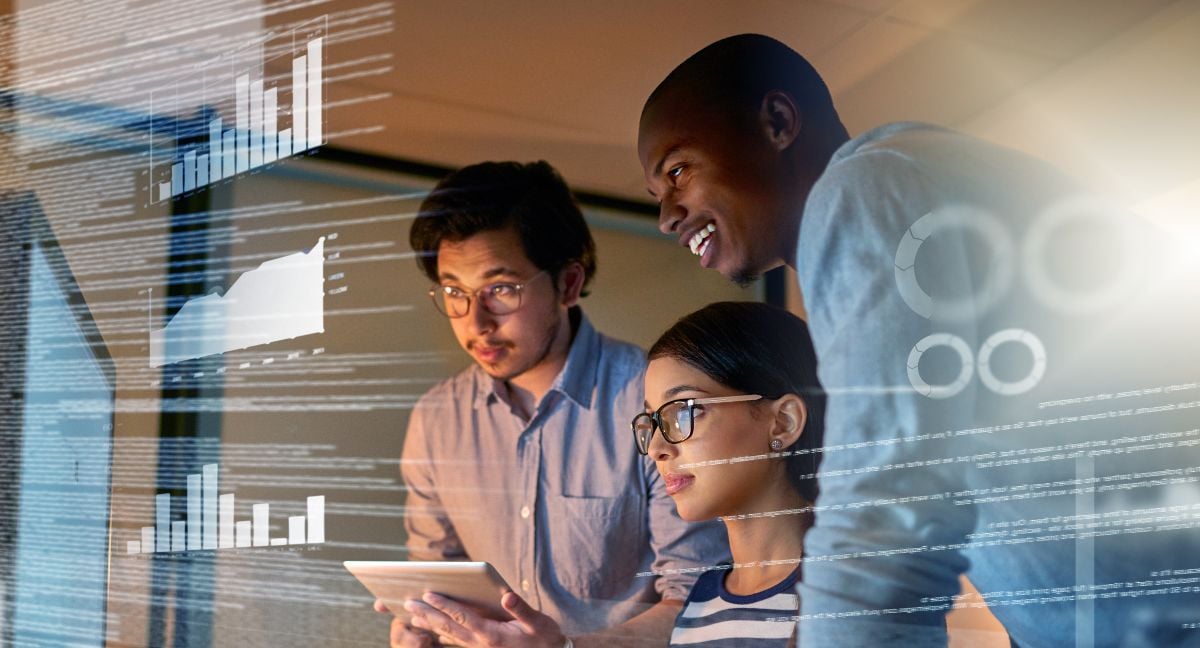 A round-up of the best new functionality released by iplicit last year:
Data Entry Control

Released in January, this major new feature enables multiple people around an organisation – not just those in the Finance team – to enter data into iplicit.
Their access to the system can be restricted to the particular tasks their departments are working on - so that there are no confidentiality issues.
This makes iplicit a pervasive resource throughout an organisation, giving everyone the chance to get the benefits of the system; it doesn't have to be the sole preserve of Finance.
With the new data entry control feature, anyone in the business can enter data, while management can be confident that individuals are accessing only the areas of the system relevant to their particular roles.
Back-to-Back Orders
This new automation is a great time saver for organisations that don't keep products in stock but buy them from suppliers as orders come in. When a user's customer places an order, the user presses the 'back-to-back' button and the system automatically raises a purchase order and sends it to the supplier.
Inter-Company Purchases
Users who are part of a group of companies can now raise one invoice across the different legal entities, reducing potentially several transactions to one. This can massively reduce the time spent on intercompany transactions and is particularly useful for tasks such as accruals and automated disbursements.
Deferred Revenue Automation
Where a company is providing services on an annual subscription or contract basis (for example, tech support contracts), though its invoices for the total annual cost it needs to show only the monthly equivalent as income in its monthly profit and loss accounts.
Say the annual charge is £1200, iplicit can spread that over the 12 months, automatically showing £100 per month as income.
This feature can mean huge time savings for organisations, such as software suppliers, that regularly need to show deferred revenue.
Pre-Payment Automation
Basically the opposite of deferred revenue, this helps organisations to spread the costs of annual contracts over a year. For example, an annual insurance policy costing £2400 a year can be automatically attributed in the P&L accounts as £200 a month in costs.
Group Payments
Organisations with multiple legal entities often find that handling monthly payment runs is a major hassle. Especially where the different entities use different software, there has traditionally been no easy way of working out the total money owed across the group.
iplicit's new time-saving feature allows users to see their exposure by entity or by supplier. For example, they can see the total the group owes to a particular supplier. They can then pay that supplier from one group company and automatically collect the money from the other group companies.
Enhancements to Partial Tax Support for Nonprofits
Unlike commercial businesses, nonprofits can reclaim VAT on certain costs but this is a time-consuming task, typically involving someone going through spreadsheets manually to find the relevant invoices.
Our new enhancements have automated this process, allowing users to specify which legal entity (the charitable trust or the trading arm, for example) the invoice is related to and so quickly identify which portion is applicable to the VAT exemption.
Support for Overseas Tax
With different tax rates in Canada, Australia and New Zealand, this new feature – introduced as a result of customer demand – enables users quickly to automate the Tax submission in these new geographies. In Canada for example the system can now automatically handle the added complexities of both GST and Provisional sales taxes.
If you'd like to find out more about our iplicit's powerful accounting software, please get in touch to arrange a demo.