EdTech expert, Alex Middleton, is to introduce multi-academy trusts (MATs) to cloud finance software.
Award-winning accounting software provider, iplicit, has hired a successful figure in the world of education technology (EdTech) to lead its charge into the schools and multi-academy trusts (MATs) market.
Alex Middleton has been in the world of EdTech for over 10 years, working exclusively with MATs to help them develop and deliver their digital transformation strategies.
As business development manager in iplicit's new education division, he will be responsible for introducing iplicit's award-winning, true cloud product to MATs as iplicit seeks to disrupt a sector dominated by a single player using 'on-premise' software.


Software that can make your life so much easier
Alex Middleton, Business Development Manager, iplicit, said, "On-premise shouldn't be in our vernacular anymore in my opinion. There's software that can make your life so much easier."
"iplicit's true cloud software will bring MATs substantial savings in time and costs, eliminating manual tasks that can take up many staff hours every month."
"We've got a piece of software that's user-friendly and intuitive and allows schools to take ownership of the system, rather than just rely on the experts every time you need something doing," he says.

"Schools should have something that's as simple as subscribing to Netflix. Have you ever called Netflix support or Amazon Prime support? Probably not. They take something complex and make it really simple because the software developers are world-class – and I think that's what we've got here. A world-class team," adds Middleton.
iplicit move into the education sector
Alex came to iplicit from a role as Senior Sales Consultant with Arbor Education, whose management information system (MIS) is used by schools to process information on student attendance, attainment, and behavior as well as a host of other data.
He was part of Arbor as it disrupted its market, going from 1,000 customers when he joined to 4,000 two-and-a-half years later.
Middleton explains, "I left arguably the best sales job in EdTech. They had so many applicants every single day for salespeople in MIS because of the company culture and the product almost sold itself."
"When iplicit approached me and I talked with Chief Executive Lyndon Stickley about leading iplicit's charge into education, my head was turned and something in my gut told me – the same way it told me about Arbor years before I even joined them – that they had something special.
"When a market is served by a technology that hasn't evolved with the times – it leaves a wide-open opportunity."
New pilot scheme for Multi-Academy Trusts
iplicit's education product is due to be showcased at the EdTech event Bett UK, taking place at ExCeL London, from March 29-31. Middleton will be seeking multi-academy trusts to take part in a pilot scheme that will see them use the software for free until October and then decide whether to carry on with a three-and-a-half-year contract.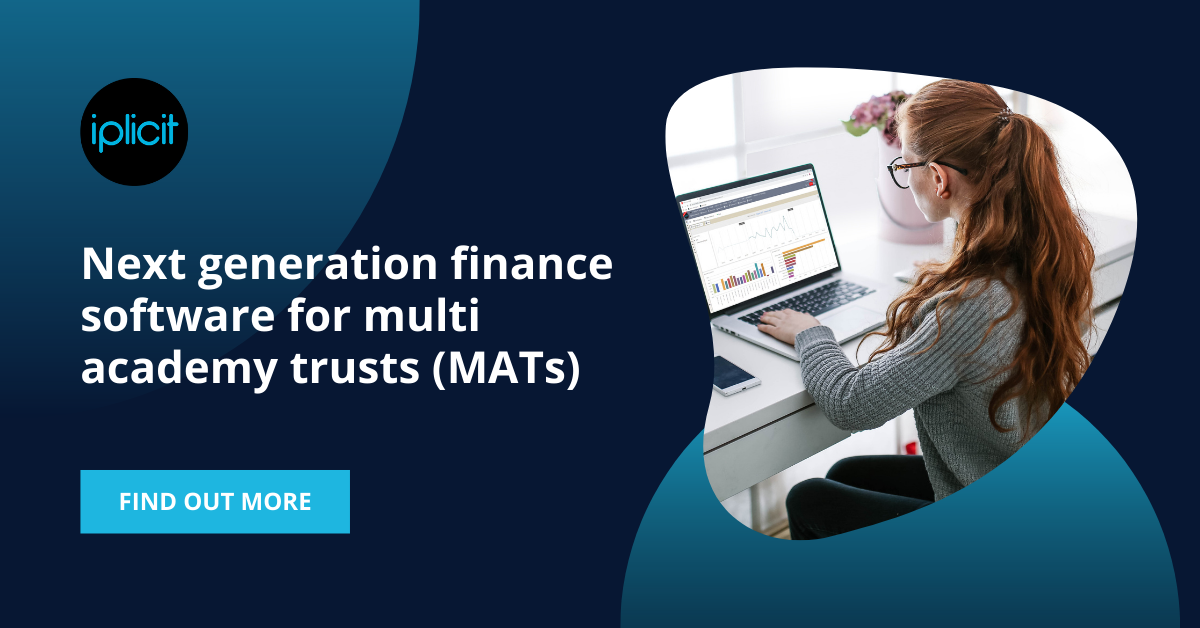 iplicit's award-winning finance solution has been tailored for the MAT market, in order to provide a compelling alternative to the legacy systems that many MATs currently use.