iplicit is excited about sponsoring the Finance Director of the Year title at this year's Accounting Excellence Awards, which will honour the brightest and best of the accountancy profession - from inspiring individuals to teams and firms that embody excellence in everything they do!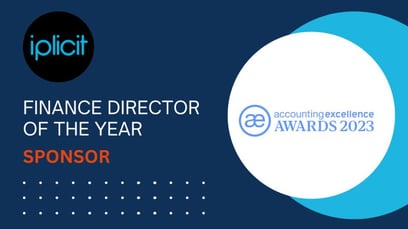 The Accounting Excellence Awards covers 21 categories, all judged by an outstanding line-up of experts and senior professionals covering a range of specialisms from within and outside of the accounting community.

We're especially thrilled that one of the six shortlisted FDs is Mark Preston FCMA, Finance and Business Manager at Blackpool Grand Theatre – an iplicit customer who has spoken of how the software transformed the business.
We wish the best of luck to Mark and the other five worthy finalists at the ceremony on October 3 at the iconic Roundhouse, London.
You can find out more about the awards and check out the other finalists here.
We've made the shortlist
We're also keeping our fingers crossed ahead of several awards ceremonies where iplicit has made the shortlist:
1. The Cloud Excellence Awards in the category of Best Cloud Finance Solution

2. The UK Business Tech Awards in the category of Tech Company of the Year (small)
3. Growing Business of the Year (Under £10m Turnover, Medium Cap) in the Growing Business Awards
4. Market Disruptor of the Year in the Growing Business Awards
iplicit also recently made the Fintech 50 list published by TechRound, alongside some other very prestigious names in technology.