From the moment people wake and check their emails and messages to the time they set their reminders and alarm for the next day, mobile devices have become a major part of everyday life.
In 2021 alone, the number of smartphone users in the UK rose to 53.5 million – roughly 78.9% of the population – according to a recent report from CyberCrew. And 46% of those people surveyed also said they used their devices more now than before the pandemic.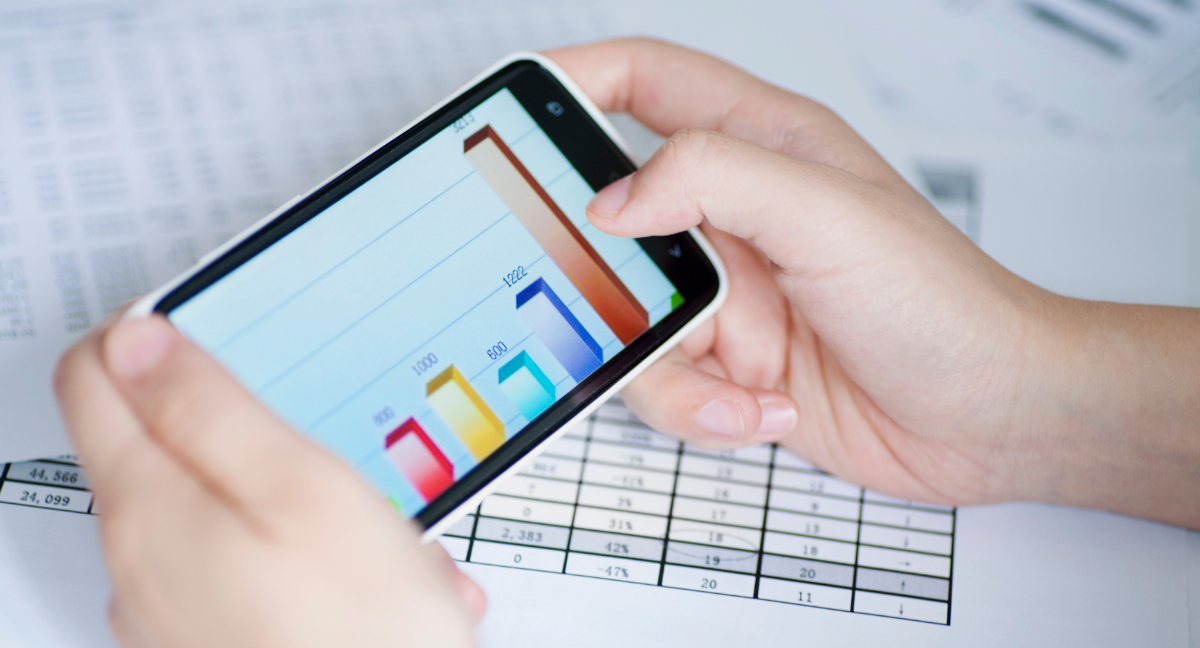 Business owners across the globe often find themselves on the move – whether meeting clients, working on-site, or travelling between jobs. It's unlikely they're spending as much time in the office nowadays compared to a few years ago, especially in what's now considered a hybrid working world.
However, while the 'new normal' has been welcomed by many departments in a typical organisation, it has created some uncertainty for finance teams who have been forced to work in an entirely different way following the Covid-19 pandemic.
While that has presented challenges, FDs are beginning to understand that the finance function doesn't have to be centred around a physical process for it to be utilised effectively and breed efficiency.
That's where the advantages of mobile accounting software comes into play.
Providing finance teams with the opportunity to tap into information from anywhere, and at any time, the past decade and subsequently an evolved way of working has driven the demand for mobile accessibility.
Fast-forward to the present and mobile technologies are playing an increasingly critical role in everyday life. In fact, CyberCrew's report goes on to reveal that 99% of people aged 16 to 34 own a smartphone. And mobile device-compatible tools are part of a typical working day for the newest generation of digitally native employees.
As more organisations delve into intuitive ways to make processes more efficient and empower staff to complete tasks seamlessly, here are four main benefits of mobile accounting for finance departments…
1. Moving to the cloud
Increases in web-based finance systems and the desire from financial management to move to these ecosystems have fostered a rise in both the development and adoption of mobile accounting. This technology shift has made it easier to connect mobile apps with cloud-native financial systems.
The reasons for this are that they're considerably simpler and more reliable than incumbent on-premise systems which are subject to inherent technological limitations and security-related risks that result from connecting systems with the outside world. Overall, mobile accounting software enjoys a wider scope and suffers fewer restrictions.
2. Scalability and the distributed workforce
It's becoming increasingly important for organisations to have mobile accounting as more employees need accurate, real-time information at their fingertips and to interact with the finance system.
However, mobile accounting isn't completely replacing traditional finance. If anything, it's enabling FDs and their teams to do their jobs more effectively.
Mobile accounting enables organisations to perform tasks swiftly, which in the past might've required manual processes or record-keeping outside of the core finance system. From scanning invoices to attaching expenses receipts, to verifying mileage and providing various approval workflows and real-time alerts, it's empowering the finance department to work smarter, not harder.
However, as organisations grow, the limitations and cracks in functionality become more visible and harder to bear. Today, it's not just about expanding the reach of a modern cloud accounting system beyond a laptop or desktop, it's about enabling employees to access the system while on the move, and involving a wider range of stakeholders in the process.
3. Adding value
Most modern mobile accounting systems have a tiered subscription approach which has changed the way that access to once hallowed and limited finance systems, is now possible.
It permits flexible inputting and outputting of information to and from the finance system, spreading workloads and accelerating processes.
At iplicit, one of the most common uses is the ability to seamlessly enter expenses claims for employees. Typically, these users don't require, or have access to, any other part of the system and they can easily complete a timesheet – which their manager can also sign off – all via a mobile device.
As well as other types of transactions taking place – via a few taps of an app – this way of working helps to save software costs, offers a more secure way of completing admin tasks and ensures the entire process is easier to control.
4. Mobile efficiency and leverage
A good mobile accounting system will also enable users to view customer and supplier information, as well as add purchase orders and purchase requisitions. Furthermore, it can allow them to access certain key reports or information that can be preconfigured.
And interactive dashboards presenting key data and real-time information can ensure leaders are making swift and informed decisions based on accurate insight, regardless of whether they're in front of their laptops or on the move.
Although change is difficult and the finance function has been truly challenged to evolve throughout the pandemic, upgrading to a cloud-native solution and accessing the world of mobile accounting can enable finance leaders to produce actionable insights, improve organisational performance, and mean the team spend fewer days dealing with manual workarounds and inefficient legacy systems.
Our dedicated team can explain all the benefits and walk you through iplicit's comprehensive functionality and mobile accounting application. Book a demo today by calling 020 7729 3260, emailing: info@iplicit.com, or completing our contact form for a call back.