FREE WHITEPAPER SERIES
What Accountants Could Do Next
An Interview Series with leading UK accountancy practices on how they are adding value and strengthening client relationships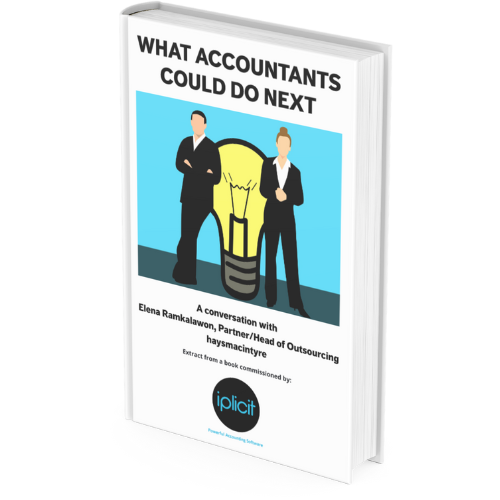 Can IT Help Your Practice Add Value?
If technology has resulted in arm's length commodification of services, has it also provided the accountancy profession an opportunity to develop a closer relationship with the client?

A book commissioned by iplicit looks at how IT has a role in enabling a practice to add value, whether in fact technology can assist the migration to providing a more advisory role and service to the client.

Does a practice now need to be able to harness IT in the interests not just of the firm and its practitioners but the client as well, as software becomes more complex and inextricably linked?

What are the catalysts which prompt a mid-tier company (or indeed an accountancy practice) to introduce new accounting software?

What are the issues which affect the decision-making process and timing - risk, 'nobody got fired for buying IBM' syndrome, worry about disruption when organisations are pushed in terms of resource, inherent reluctance to change - and how might they be addressed?

Leading up to publication, the latest thought-provoking interview to be included in the report will be available here for you to download.

See the award-winning iplicit accounting software in action